Efforts of our companey
Operation and Control system of Airport Limousine Bus
Airport Limousine Bus has introduced GPS bus operating system on January, 2001.We have been monitoring all of our buses and routes using this system.

GPS bus operating system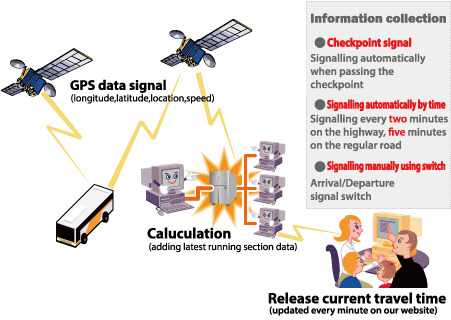 Feature of "GPS bus operating system" is using GPS signal for mobile phone and mobile data network. We are able to monitor all buses at bus operation center as well as our bus garages, hotels by displaying their location on the PCs.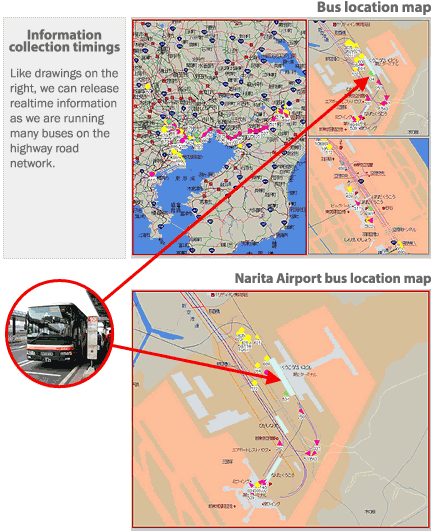 All of our buses can be located through this system. We are able to regulate the service when we need to do so.
We have been using just two-way radio before introduction of "GPS bus operating system", but now we can control our buses perfectly.
Running time display system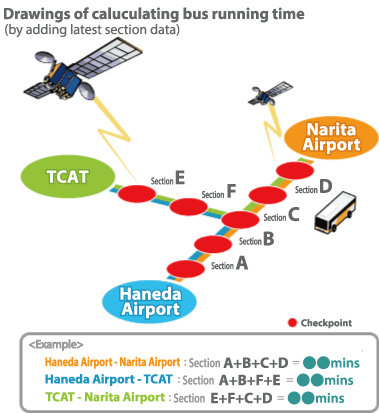 Airport Limousine Bus is now able to release realtime bus running information on our website. We couldn't relase such realtime date before the introduction.
As we have already mentioned above, we have always been thinking of using GPS and data services to create realtime bus running time information to our customers.
We are setting many sections on the highway. We don't have to wait for the first continued running bus for the section for collecting data. We can split the section and add the section data for collecting more up to date running time information.